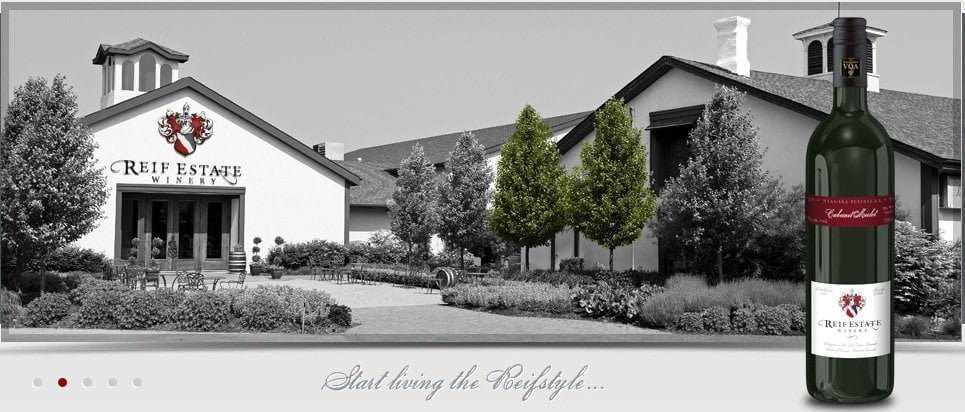 Entertaining with Icewine, Reif Estate Winery, Niagara Icewine Festival with The Wine Ladies
Join us Jan 22nd http://guestli.st/79104 for The Wine Lades Shimmer of Gold Icewine Tour taking place during the annual Niagara Icewine Festival. Sure to be a stupendous day, a wintry wonderland awaits you, come and celebrate Icewine and winter, with us, at the annual Niagara Icewine Festival. We'll visit three personally selected wineries where our small group will enjoy a unique VIP wine experience just for us. In between visits, we'll spend a little time in the village, with the festival offering up fabulous wines, superb foods, and lots of shopping and entertainment. The ice sculptures and roasting marshmallows are always a hit too!
Our 2nd stop on the 22nd will be the stunning Reif Estate Winery www.reifwinery.com where the philosophy that "great wines start in the vineyard" is the cornerstone of the quality and integrity of Reif Estate wines. Reif Estate Winery. One of Niagara-on-the-Lake's founding-family wineries, Reif opened in 1982, after founder Ewald Reif planted its vineyards in 1977; the property was later acquired by nephew Klaus W. Reif. Today, the large 50-hectare site produces a complete range of varietals, including Vidal Icewine, a perennial medal winner. Premium "first growth" reds from the oldest vines are turning heads as well
Our special experience at Reif Estate Winery: The Sweet and Savoury Experience
Explore Reif Estate Winery and hear the story of how Klaus W. Reif brought his 13th generation winemaking skills to the Niagara Region and founded a 125 acre vineyard in historic Niagara-on-the-Lake. Your tour will conclude with a comparative tasting of a dry Riesling and Cabernet Franc followed by a Riesling and Cabernet Franc Icewine.
Before you head off for your next wine adventure – stop in at our Icewine Festival annual pig roast and taste our signature Vidal Icewine paired with Porketta and apple Icewine sauce.
To book your tickets please call 905-338-6797 or buy on line here http://guestli.st/79104
Follow Reif Estate Winery on Twitter @reifwinery and like us on Facebook http://www.facebook.com/ReifEstateWinery
The Wine Ladies Shimmer of Gold Icewine Tour- NOTL-Jan 22nd, 2012
Join us in Niagara-on-the-Lake, just an hour and a half from Toronto, an oasis for the wine lover for a very special VIP experience we have created for you. Travel in style and comfort in our limo bus, visit 3 special local wineries, Inniskillin www.Inniskillin.com , Reif Estate Winery www.reifwinery.com Colaneri Estate Winery www.coloneriwines.com , each with an unique, exclusive experience created especially for our group including samplings of some of Ontario's best Icewine, sparkling and premium VQA wines.
We'll also enjoy lunch, more wine sampling and shopping to Niagara-on-the-Lake's historic Queen Street as it has transformed into a winter wonderland as the town comes together to play their part in wine country's annual Icewine celebration. Set to the soundtrack of Canadian Jazz, the Icewine will flow as the 28 Wineries of Niagara-on-the-Lake pour liquid gold.
The renowned Signature Kitchen Chefs will tempt your palate with Icewine-inspired culinary creations. Watch talented artists turn blocks of ice into sparkling sculptures and when it is time to warm up, pop into one of Queen Street's cozy shops. The Niagara-on-the-Lake Icewine Festival will engage all of your senses during this celebration of all things Icewine. It doesn't matter if you are a wine enthusiast or a cocktail fan, a foodie or a music lover; there's sure to be an event that speaks to your passion while offering an unforgettable Icewine experience.
Itinerary:
9:00am: Departure from Toronto -Royal York Hotel
9:30am: Departure from Oakville- Oakville Shopping Centre
11:00am-12:30pm – Inniskillin
12:30pm-2:00pm – Lunch, shopping-Niagara-on-the-Lake
2:00pm-3:30pm – Reif Estate Winery
3:30pm-5:00pm- Colaneri Estate Winery
6:00pm: Arrival in Oakville- Oakville Shopping Centre
7:00pm: Arrival in Toronto-Royal York Hotel
Entertaining with Icewine according to Reif Estate Winery
Icewine is best served chilled to approximately 6 °C or 43° F and is traditionally served in a smaller dessert wine glass but can be enjoyed in a white wine glass; both will showcase all of its wonderful aromas. Unopened Icewine can be cellared up to 20 years in a consistent and cool location (55-65 °F or 12-18 °C). Once opened Icewine will last for three to five weeks, due to the high sugar content, if sealed and stored in the refrigerator.
Icewine pairs well with almost any dessert or can be poured on fresh berries or ice cream for the perfect treat. It can also be savoured on its own or appreciated with fine blue cheese. Icewine can also be used to transform your favourite cocktail from the ordinary to extraordinary.
Icewine Martini
1.5 oz Reif Estate Vidal Icewine
1.5oz vodka | Add ice and stir
Garnish with a frozen grape
Optional: Rim the glass with sugar
Icewine Royale
1 oz Reif Estate Cabernet Franc Icewine
3 oz sparkling wine
Garnish with strawberry
https://www.thewineladies.com/wp-content/uploads/2011/12/reif_estate_winery_building_notl.jpg
412
965
Susanne Seelig-Mense
https://www.thewineladies.com/wp-content/uploads/2017/08/WineLadiesLogoTransparent.png
Susanne Seelig-Mense
2011-12-21 15:23:50
2011-12-21 15:23:50
Entertaining with Icewine, Reif Estate Winery, Niagara Icewine Festival with The Wine Ladies