Highland Park THOR God of Thunder hammers home a stunning Scotch Whisky launch at Colborne Lane
The mighty THOR, considered the most renowned of all the Norse gods as a powerful and brooding warrior, has inspired the release of the Single Malt Scotch THOR, the first of the Valhalla Collection. Georgia tries her best to simulate a Norse warrior… how scary is that? The scotch and the 5 course meal was stupendous at the Highland Park THOR Launch & Spirited Dinner at Colborne Lane.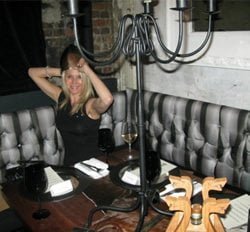 Marc Laverdiere, Brand Ambassador for Highland Park Single Malt Scotch Whiskey shared the tales of the Gods, with THOR, being the god of thunder and war, tall and strong, Thor dies in a mighty battle with the evil serpent, and has "Thursday" named after him, Thor's day.
With a natural strength like its namesake, THOR draws from the environment unique to Orkney, Scotland…The Valhalla Collection, provides a guide to the Gods, and a tale of warriors who died in battle and gather to feast, drink and more.
Colborne Lane creates an inspired menu, 5 courses, paired with and/or infused with Highland Park Single Malt Scotch aged 12, 15 and 18 years.
First Course:Caramelized carrots, gingerbread, chevre noir, cumin, wheat berries, paired with Highland Park Single Malt Scotch Aged 12 years.
"Delish dish, the smokey sweetness of the scotch partners with the flavors beautifully, particularly enjoyed the accent of the ginger".
Second Course: Peat-smoked squab, creamed barley, charred ramps, grapes – infused and paired with Highland Park Single Malt Scotch Aged 12 years
Third Course: Green apple bomb, white chocolate, vanilla- infused & paired with Highland Park Single Malt Scotch Aged 15 years
Fourth Course: Lamb shank, watercress, stuffed onion, rye, malt, Paired with Highland Park Single Malt Scotch Aged 18 years.
"Rich, full flavour with a soft, round and lingering finish. The lamb was cooked to perfection! The dish… magnifique!"
Fifth Course: Chocolate, malted milk, hazelnut, hyssop- infused &paired with Highland Park Single Malt scotch aged 18 years.
At our table we enjoy the company of Jeff, Sean and Ryan, all of ScotchBlog.ca. Stay tuned for a TV show segment coming soon with blogger Jeff Moon (beside Georgia) as our guest. There is much to explore of THOR! And other Scotch too.
Highland Park THOR, a stunning the king, or god of the Scotch lot! Suggested retail $250.00. Will be available in a select Canadian liquor retailers in Spring 2012.
Mein Skol, Dein Skol, Alle Vakkera Flikka Skol.
which means…
My health, your health, all beautiful ladies' health.
For more information and the stunning story check out this cool video http://www.youtube.com/watch?v=SbhDcgIjWyI
Mighty Thor remains one of the most renowned of all the Norse gods. A powerful and brooding figure, it is said that using his hammer, Thor could carve valleys out of mountains and that his enemies would quake in terror at the thunderous sound the weapon created. Son of Odin, the ruler of Asgard, Thor was avidly worshipped by Viking warriors as the defender of mankind and gods alike.
In honor of this great warrior and in celebration of its own unwavering Norse heritage, Highland Park brings you Thor. This stunning 16 year old single malt is believed to be the first whiskey ever designed specifically around an individual's character. With a natural strength like its namesake, drawing influence from the environment unique to Orkney, Thor is a truly elemental spirit. Distilled where sea turns to ocean, it represents a meeting point of nature's forces, exuding a dynamic and bold character on the surface, but with an unexpected softer side at its heart
Thor represents the first coming for Highland Park's stunning Valhalla Collection; a range of four unique whiskeys, released annually, taking inspiration from the legendary Nordic gods of old. Not for the fainthearted, only those brave enough to accept the challenge of Thor shall be rewarded with the ultimate experience; a whiskey of divine power
https://www.thewineladies.com/wp-content/uploads/2012/04/thor_html_589eda2a.jpg
604
300
Susanne Seelig-Mense
https://www.thewineladies.com/wp-content/uploads/2017/08/WineLadiesLogoTransparent.png
Susanne Seelig-Mense
2012-04-13 16:06:13
2012-04-13 16:06:13
Highland Park THOR God of Thunder hammers home a stunning Scotch Whisky launch at Colborne Lane