Food Network chef Anthony Sedlak menu inspired by Buick Verano
Celebrity Chef Anthony Sedlak, flashes a big smile at the Market Kitchen where he dishes up a fabulous menu inspired by the new luxury, sporty Buick Verano 2012. http://www.gm.ca/gm/english/vehicles/buick/verano/overview Food Network personality, formerly of the fab TV show "The Main" and now with new show "Family Cook-Off", Anthony delights the crowd with inspired, delish and creative palate pleasers, personality and passion for his craft. An entire menu inspired by the new Buick Verano… key descriptives include, luxury, texture, familiarity, fond memories. He does not disappoint.
For highlights of the evening view here. http://www.youtube.com/watch?v=xCnN9rzMxTQ
First up a delicious selection of beverages including "The Verano Martini", a selection of wines personally selected by Anthony, the Lucky Country 2012 Shiraz from Australia,giving up a little plum, oak and spice in the nose, rich black fruit flavour and the 2011 Crios Torrontes from Argentina. Aromatic and alluring, with peach and melon and a floral note enticing you, take a sip and enjoy this lovely dry, savory wine with a lengthy finish. Torrontes is Argentina's signature white variety and is becoming increasingly more popular. Simply sublime with the oysters and beef strip loin planned as starters.
The secret ingredients for "The Verano Martini". Made with 1.75oz grey Goose, .5oz Campari, 2 tsp creme de framboise, 1tsp fresh lime juice and a dash of Cointreau.
This young lady's expression says it all "these oysters are sublime!"
Mouth watering, Pink-rare sterling silver beef strip loin, horseradish cream & fine herb pesto, was OUT OF THIS WORLD! Thank goodness we declared this
evening a "Calorie-free" zone! To miss out on this appetizer would be criminal. A little "Lucky Country 2012 Shiraz from Australia giving up a little plum, oak and spice in the nose, rich black fruit flavour and toasty finish was a mighty fine accompaniment.
The Market Kitchen at the St. Lawrence Market is a great venue for the evening. Relaxed, informal, perfectly suited to Chef Anthony Sedlak's easy going personality. First course, coming up, the Pan seared digby Bay scallop and company" To die for.

"We eat with our eyes first" Master chefs are fond of saying… and clearly Chef Anthony believes in this credo too, with attention to every little detail of plating. Did you know that there is research to back this up? Yup, a study in the late 1970's showed that when food is appealing, not only do we enjoy it more but we also absorb more nutrients from it… just a little tidbit. Here Anthony helps President of GM Canada Kevin Williams plate the Digby bay scallop just "so" !Ahh, the concentration, in now what we have learned is the "stance" of concentration for super chef Anthony. Plating is key, as we can see the early stages of the "Starter" Pan Roasted Digby Bay scallop to rest on delectable butternut squash.
Stunning first course! Pan-roasted Digby Bay-Scallop, Butternut Squash & Brown utter Puree, Maple-Bacon Crisp, Sweet English Shelling Pea Froth. Light and luscious! The combo was divine.
Kevin Williams relaxes, and enjoys the Braised sweet and sour short rib, parsnip & truffle puree rapini with toasted garlic, natural jus. It was divine. A good sport, Kevin acted as an apprentice earlier, plating the Digby Bay scallop. Cheers to you Kevin, a job well done.
Slow Braised Sweet & Sour Short Rib, Parsnip & Truffle Puree, Rapini with Toasted Garlic, Natural Jus.
Believe it or not this delicious looking and tasting desert was made with Oikos Greek Yogurt. It was delicious. Actually high in protein and low in fat. It was sinfully good without the sin! Greek Yogurt & Mountain Honey Panna Cotta.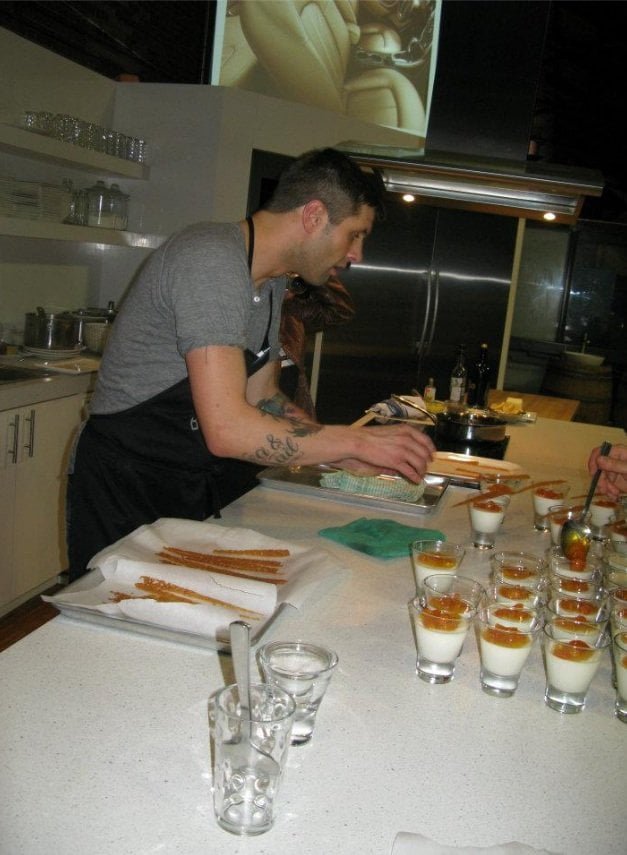 The lace cookie crisp Anthony is placing on the "sweet", a vanilla bean & mountain honey panna cotta, warm spiced peach compote finishes off this dessert superbly, providing the perfect contrast to the creaminess of the panna cotta.
What a charmer, what a chef, what an evening! Thanks Anthony and to the Buick Verano crew for this unique and inspiring event. Kevin, Faye, Michael and Natalie, it was fun, creative and delish! And… we loved driving the Verano for the week too!
https://www.thewineladies.com/wp-content/uploads/2012/05/anthonysedlaksavourverono25.jpg
644
853
Susanne Seelig-Mense
https://www.thewineladies.com/wp-content/uploads/2017/08/WineLadiesLogoTransparent.png
Susanne Seelig-Mense
2012-05-10 21:34:58
2012-05-10 21:34:58
Food Network chef Anthony Sedlak menu inspired by Buick Verano