Niagara-on-the Lake … glorious afternoon for a little wine, a "Vidal pizza" and a Vidal truffle!
Taking the ride down to NOTL for a morning meeting ended up being the perfect excuse to stay on, enjoy a light lunch, take in a couple of wineries and explore our "FIX" for chocolate!
First post-meeting stop was for a bite to eat. We decide on The Old Winery Restaurant, which we know immediately was a good choice based on the fresh thin crust pizzas we see exiting the wood burning oven and the waft of enticing smells that surround us.
Just as we are seated outside on the patio , our server promptly arrives with a smile, wine list and menu.
Shawna, is awesome! Our choice for pizza is the Vidal, tomato sauce, blackfigs, pancetta and fiore di latte and honey Dijon drizzle. What's fiore? It's a wonderfully flavorful and software type of mozzarella also made from cow's milk, super delish!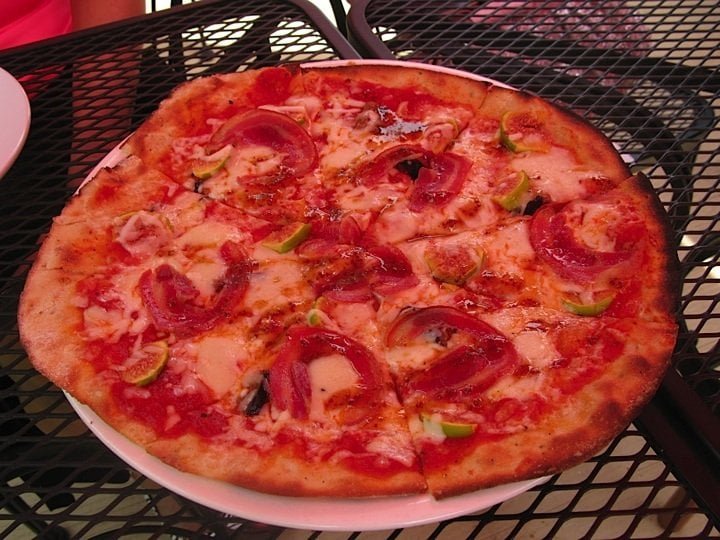 The Vidal is amazing! But what about the wine? This is the Old Winery Restaurant with a good selection of wines by the glass to choose from too.
Georgia 's thinking Pinot Noir and Susanne a Shiraz
Cattail Creek Estate Winery Pinot Noir 2009 VQA Four Mile Creek.
-very aromatic, red cherry with plum, lively and spicey.
Creekside Estate Winery – Shiraz 2009
-black raspberry and plum, spicey with notes of oak and vanilla.
Are our palates happy? Yes-sir-ee! We enjoy our vino and our "Vidal" pizza!
Chocolate F/X Chocolate Factory… move over Willie Wonka!
Hail Wilma and Art, Proprietors of Chocolate F/X, enrobing in chocolate over 85 powerfully palate pleasing products, both traditional and unexpected, from gorgeous perfectly ripe strawberries to an oreo cookie and mint combo, to chunks of ginger, perfect pistachios… even jujubes get the royal treatment, and these are to die for, what are we saying? They all are!
We all enjoy the wine tasting bars in Niagara-on-the-Lake, and here at Chocolate F/X, located in St. Davids NOTL, you can enjoy the Chocolate Tasting Bar, featuring a multitude of chocolate enrobed specialties…dark red raspberry balls, Milk Belgium Truffles, Triple Mint or Streusel balls anyone? www.ChocolateFX.ca
Next stop is Stratus Vineyards. Stratus is tres chic!
It also is recognized as the world's first winery to be certified under LEED (Leadership in Energy and Environmental Design) the international standard in sustainable architecture. It is open, inviting, spacious and bright, with the 1,000 barrel cellar above ground and linked to the winery's pumpless wine-flow system, guided by gravity.
Stratus has the well deserved reputation of creating complex and delicious red and white assemblage wines, although we opt to try the single varietal Semillon, a grape typically blended with Sauvignon Blanc in the white wines of Bordeaux. "ohhh, ahh, how rich, how succulent, with notes of apricots and spices, long lingering finish, and delish!
Ravine Vineyard
Welcoming, warm with a great sense of history. The Lowrey family has roots here dating back to 1867, with the land planted with one of the first commercial vineyards comprised of 500 vines. From then on, the farm has delivered all kinds of tree fruits and proven to be quite the verdant farm!
Ravine Vineyard is a special place, located in the sub-appellation in Niagara called St. Davids Bench. This appellation sets itself apart from the other locations in the region, being 20 percent warmer. The property stands alone in positioning, being at the highest elevation on the Bench. We enjoy a tour and the story beind the hospitality centre which is housed in a 200 year old Loyalist Georgian Wm. Woodruff House.
https://www.thewineladies.com/wp-content/uploads/2012/08/screen shot 2012-08-03 at 2.17.26 pm.png
366
388
Susanne Seelig-Mense
https://www.thewineladies.com/wp-content/uploads/2017/08/WineLadiesLogoTransparent.png
Susanne Seelig-Mense
2012-08-03 19:41:28
2012-08-03 19:41:28
Niagara-on-the Lake … glorious afternoon for a little wine, a "Vidal pizza" and a Vidal truffle!