Niagara-on-the-Lake, perfect for a second date!
Niagara-on-the Lake turned out to be the perfect venue for my second date, from the food and wine, to the picturesque old town, to the sounds of the music festival, a little shopping and a small dose of history. How could he not be impressed with wine country?
And so he was. It was my turn to come up with a plan for Saturday afternoon  which was to be our second date. Being quite the foodie and wine lover that I learned he was, spending the day in Niagara was a natural. Three wineries, I thought will be ideal, each with a unique focus, a stroll around the old town, quaint but with sophistication, a little window shopping, and a few stops along the way taking in the sounds of the music festival. This would be perfect. He enjoys a good band or quartet, this I know, as he plays a couple of instruments himself… hmmm we could do a duet, I could sing and tickle the ivories, but I digress.
We'll top off the evening with a stupendous tasting menu over at Peller Estates. http://www.peller.com Celebrity Chef Jason Parsons rocks the kitchen, is a friend and a great guy with a big personality, I'll have to introduce him.
It's all come together nicely, the plan is set, just hoping it will be a delightful sunny afternoon!
Saturday afternoon, the sun is shining and we are off, cruising down the highway, the top down and the tunes playing. Niagara-on-the-Lake is 1.5 hours from Toronto, easy drive with easy conversation and anticipation for the day before us.
Our first stop, Konzelmann Winery http://www.konzelmann.ca/ where we are greeted by the General Manger, Jensin Ozkur who personally gives us a tour, so passionate about the winery, the wines and the vineyards. Konzelmann Estate Winery was founded in 1984, although the family has been in the wine business for over 100 years with its origin in Germany, in the town of Uhlbach (not far from Stuttgart) founded in 1893. "This is the only winery in NOTL" Jensin explains "with vineyards on the lake". The view is spectacular with the vineyards overlooking Lake Ontario, 16 hectares in all, made up of vitis vinifera grapes including Pinot Noir, Chardonnay Gewurztraminer as well as Zweigelt.
On a clear day you can see Toronto and The CN Tower. Simply stunning.We chat about this years growing season, Jensin tell us that 2012 is looking to be the best year yet, better than 2007 and 2010.
Onto the patio for a tasting of the Barrel Fermented Chardonnay 2009 http://konzelmann.biggerbetterbox.com/winedetail.php?id=000000038 my date loved this one, and a Pinot Blanc 2011 http://konzelmann.biggerbetterbox.com/winedetail.php?id=000000011  which I thought was delish!
Time for a little something to nibble on, the Big Guys BBQ  are on it, with the waft of mouthwatering smells permeating the patio
Don Jones, prepares a chicken pull for my date, apparently devine, and I enjoy a peach Popsicle infused with wine. The "Big Guys" BBQ Food Truck pleases the guests palates over at Konzelmann every weekend.
Next, the tour of the winery  and tasting which includes The Heritage 2010 http://konzelmann.biggerbetterbox.com/winedetail.php?id=000000039 (not a Meritage, but a Heritage, a blend of Cabernet Sauvignon with Shiraz instead of Cabernet Franc, the Canada Red  http://konzelmann.biggerbetterbox.com/winedetail.php?id=000000024 and Canada White http://konzelmann.biggerbetterbox.com/winedetail.php?id=000000010 The Canada Red and White are big sellers for Konzelmann, the white being a Riesling, semi-dry with a sugar code of 2 and the red, an Austrian grape variety called Zweigelt, dry and fruity with raspberry and spice accompanied by floral notes.
Unfortunately time does not stand still and alas, it is time to move on, to our next stop. Jansin insists on escorting us so as not to waste time, should we take a wrong turn. This is the hospitality of Konzelmann Estate Winery and its incredibly charming General Manager Jensin.
Did we indeed take a wrong turn, travel in time to another continent altogether? I knew we didn't, but my date might have wondered? Colaneri Estate Winery is built in the Romanesque style, with a stunning panoramic view of the vineyard, forty acres in all, and the breathtaking escarpement. http://www.colaneriwines.com
The winery, family owned and operated, shaped like a giant C, is surrounded by the vineyards, with family members calling several of the houses on the property their home. Key words that encapsulate all that is Colaneri, passion, family and premium high quality VQA wines, many made in the traditional Italian appasimento method, and amarone and recioto style. Having taken our icewine tour here last year and most recently being Celebrity hosts of the Oh so Fab Pajama Party (fundraiser spearheaded by Tara Colaneri) we are well acquainted with this family that has been in the wine business going back multiple generations. https://www.thewineladies.com/component/content/article/38-top-stories-the-wine-ladies/1412-oh-so-fab-pajama-party-wasoh-so-fab .
Christopher, took care of us today, he is the son of Betty Colaneri, and cousin of Tara Colaneri whose mother Angie Colaneri passed away 4 years ago. But Angie's spirit lives on in all that Colaneri does, including the Pinot Grigio we go on to enjoy, which is made lovingly in her honour.  Christopher treated us to a wonderful tasting including the 2009 Cavallone Pinot Grigio http://colaneriwines.com/wines/2009-cavallone-pinot-grigio-750ml ,  and then the Amorone style ripasso 2009 Coraggioso Amaroso  http://colaneriwines.com/wines/2009-coraggioso-amaroso-cabernet-sauvignon-appassimento–750ml
Now this wine had legs, great legs, and great body, full bodied, velvety, with flavours of black cherry and sweet plum, yum, yum!
Then off for dinner at Peller Estates http://www.peller.com . Romance in the air, or is that the heady, perfumey nose of delectable wines all around us?
Our stomachs are starting to grumble! I know we are in for an incredible culinary treat, as the Peller Estates Winery Restaurant has been awarded the highest Zagat rating "Extraordinary" and Executive Chef Jason, will be at the helm this evening wielding his knives, showcasing his talent and turning out "to die for courses"! To heck with "dietary recommendations" … this evening has been declared a "calorie-free zone"
We start with a private welcome, escorted to the kitchen where we absorb the passion and the art of pairing wine and food through the words of award winning, CityLine television personality… did we say handsome  Jason Parsons. To follow is a seven course tasting menu, that tantalizes, seduces and caresses; our palates have hit the jackpot! The service is impeccable, French service, and the venue with a view of the plump glorious grapes hanging from the vines with promise is spectacular.
Your menu…. created in joint collaboration with Jason and winemaker, a menu that showcases innovative food and wine pairings. Bon appétit!
Peller Estates Tasting Menu
for Susanne of The Wine Ladies
Saturday August 4th, 2012
Watermelon Salad
Ver Jus Compressed Watermelon, Smoked Salmon, Raita, Cucamelons
Ice cuvee rose "signature series"
Corn Soup
Savoury Onion Plum Jam, Pork Crackling
Riesling "private reserve" 2011
–
Icewine Lobster Black Truffle & Basil Ravioli
Double Smoked Bacon, Brebis Parmesan, Chardonnay "Sur Lie" Cream Sauce
Chardonnay 'Sur Lie' "Signature Series" 2009
Smoked Margret Duck Breast
Grilled Tomato and Chanterelle Salsa, Crispy Risotto Gateaux
Gamay noir "private reserve" 2010
–
Bison Striploin
Wild Boar Summer Sausage, Breakfast Radishes, Romesco Beans,
Pearl Onions, Paddy Pans
Cabernet Sauvignon "private reserve" 2010
Artisanal Cheese Plate
Estate Made Niagara Preserves and Jellies
Riesling icewine "signature series" 2010
–
"P.B.J."
Peanut Butter Roulade, Blackberry Compote, Peanut Brittle, Malted Milk Shake
Oak aged vidal icewine "signature series" 2010
At the final course we bid farewell, our shake-plates polished so, as we could see our reflections, yes it was that good! We take a moment to reflect on this amazing seven course tasting menu with wines suited to perfection, we take a moment to move our belt buckles one notch, and declare our favorite wine of the evening. I elect the Chardonnay Sur Lie Signature Series,http://www.peller.com/peller-estates/signature-series/signature-series-chardonnay-sur-lie-vqa-2009.html full bodied, creamy on the palate, with soft oak tones, toasty vanilla and plentiful flavours of green apple, pear and lemon notes with hint of spice. Delish!
My date, goes for the Cabernet Sauvignon "private reserve" 2010, served with the Bison striploin and wild boar summer sausage. He really enjoyed the full flavour, picking up on the notes of tobacco and leather on the nose and the juicy plum and blackberry flavours.
The entire day was one to remind me of how wonderful our Niagara-on-the-Lake wine country truly is!
I would be remiss if not to mention that NOTL also has an incredible selection of Bed and Breakfast accommodations for those wanting to extend their stay over night. From the quaint, to contemporary, to historic, including a range of beautiful cottages to choose from there is the perfect home away from home waiting to welcome you. There is so much to experience in our wine country, we have only scratched the service, sure to return! For more info on B & B's you can go to niagarabedandbreakfasts.com
To date, it looks like the date was a success as our 5th date is in the plans! Thank you to all who helped make this a memorable day in NOTL, for me and for my date!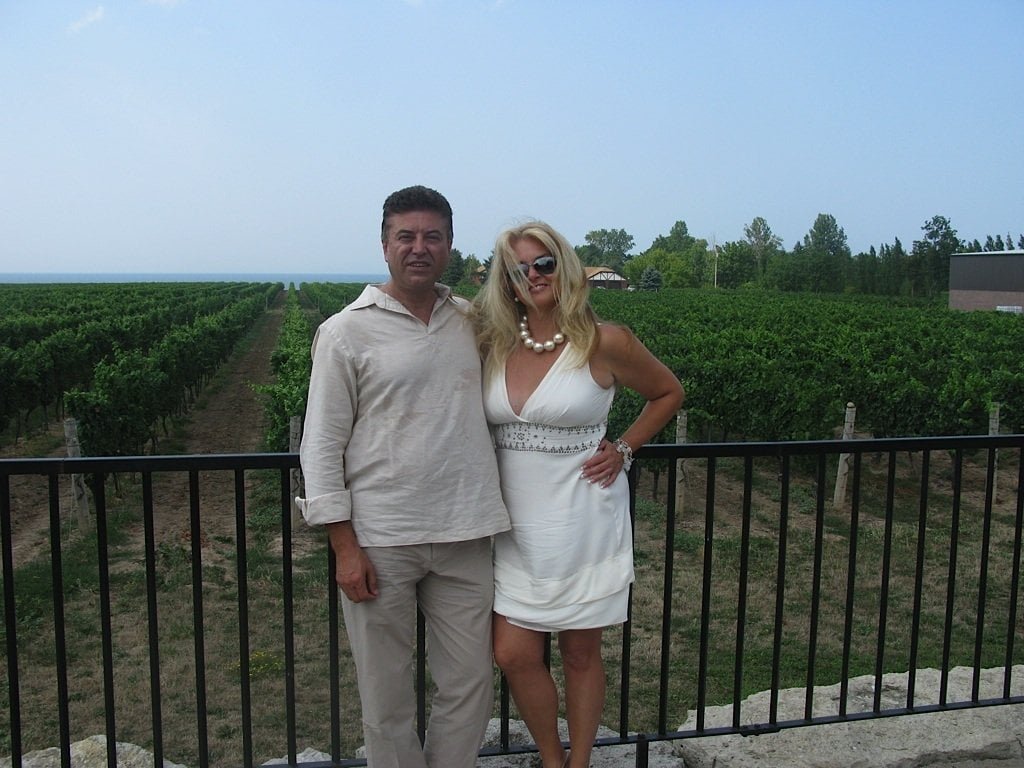 https://www.thewineladies.com/wp-content/uploads/2012/08/konzelmannsusanne.jpg
768
1024
Susanne Seelig-Mense
https://www.thewineladies.com/wp-content/uploads/2017/08/WineLadiesLogoTransparent.png
Susanne Seelig-Mense
2012-08-16 09:27:21
2019-01-07 16:58:07
Niagara-on-the-Lake, perfect for a second date!