Two Sisters Vineyards, Niagara-on-the-lake's newest kid on the block.
Setting off on a visit to our beautiful wine region of Niagara-on-the-Lake, we are a small group, smallish, sixteen, and will have only enough time to visit one winery, which must include a bite to eat paired with the winery's vinos of choice of course! It's not easy to choose just one, with over 100 wineries to experience in this blessed wine region, the Niagara Peninsula. From the quaint, small boutique winery, to the very grand with award winning restaurants, amphitheaters and even art collections, the options are endless. Not to mention yet another direction we could take visiting an organic or biodynamic winery where sheep roam hard at work pruning the grapevines. We decide on the newest kid on the block or newest Sisters on the block we should say. Like us, The Wine Ladies, two sisters Melissa and Angela of the Marotta family of Italian heritage, opened the doors six months ago to their winery Two Sisters Vineyards and we are among the privileged few to have first experienced all that this breathtaking winery had to offer.
The winery inspired by Italian Renaissance design.
As we drive up to the entrance, a majestic building stands before us, "baroque in style". A few of us remark, we learn later was inspired by an Italian architect in the 16th century, Andrea Palladio inspired by Italian Renaissance design. There has been no expense spared here. It is truly magnificent and very dramatic. Overall, it is quite imposing and moving.We suddenly hear an enthusiastic "Bonjourno" echoing from the back of the group. One of our guests has blurted out as we are greeted by the winemaker Adam Pearce. A youngish fella, charmed with personality, as well as charmed with the midas touch in the barrel cellar we will soon discover.
 Adam leads us to the barrel cellar where we are introduced to the two sisters Melissa and Angela.
They welcome us with a glass of a pink drink, no ordinary drink. This is their sparkling wine rose " Lush". It is made in the 'methode traditionelle', as in Champagne. It has a pretty, subtle, pink hue due to the dosage of the Cabernet Franc. A flavor with enticing notes of biscuit, cherries and strawberries and a luscious creaminess on the palate. As we enjoy the bubbly in this elegant yet warm and inviting cellar we are entertained learning about the backstory of Two Sisters Vineyards.
The dream germinated a few years ago and has now finally been realized.
Melissa and Angelafeela special attachment to this place, to Niagara-on-the-lake. This terroir and after many years coming to Niagara, the family was able to finally set roots in Niagara-on-the-Lake. The dream germinated a few years ago and has now finally been realized.
Set upon 70 hectares of Cabernet Sauvignon, Cabernet Franc and Merlot varietals, the vineyards are closely tended to by their Vineyard manager.  Coaxing out the best of the vines and the distinct characteristics of each varietal.
Winemaker Adam is crafting wines with minimalist intervention, already awarded with numerous Medals! Melissa and Angela guide and drive their vision to provide the guest with a complete sensory experience including the farm to table, delectable dishes served up at Kitchen 76, the winery restaurant. Chef Justin Lesso is at the helm, serving up seasonal culinary specialties, paired to perfection with Adam's wines.Even the old traditional margarita pizza never tasted so good straight out of the wood-burning oven.
The two sisters have just launched their wine club.
They are dedicated to being one that encompasses both exciting wine and culinary experiences. One can sample a little of both on the beautiful patio overlooking the vineyards that is open for the summer months.Of all the wonderful wines we enjoyed with our spectacular lunch, here are two that we would love to share with you. All wines are only available at the winery and at the online wine boutique on their website 
Two Sisters Vineyards 2013 Sauvignon Blanc $24.00
This is a dry medium-bodied elegant Sauvignon Blanc with a delightful freshness and crisp acidity. It is light straw in colour and clear and brilliant in the glass. On the nose citrus and green apple aromas seduce with a very slight grassy nuance in the background. On the palate more citrus accompanied with tropical fruit notes and a good satisfying finish. The fruit for this award winning Sauvignon Blanc came from the Lincoln Lakeshore Appellation in Beamsville, Niagara.
 Two Sisters Vineyards 2010 Cabernet Franc $48.00
Intervins 2014 Award Winner Honours
Who is the King of Cab? Most say Cabernet Sauvignon but not necessarily.  So here in Niagara, in fact "Franc," or Cabernet Franc is the father of his son Sauvignon, and reigns supreme in this wine. Deep ruby in color, with intense ripe fruitaromas of raspberry, cassis, spice and hint of vanilla oak. On the palate rich juicy blackberry fruit, spice, hint of chocolate, soft tannins, elegant, easy and delicious drinking.
This article first published in Power Boating Canada.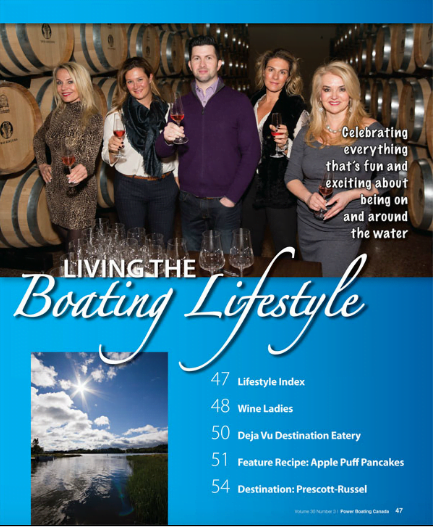 https://www.thewineladies.com/wp-content/uploads/2018/05/Screen-Shot-2018-05-07-at-12.55.24-PM.png
529
1326
Susanne Seelig-Mense
https://www.thewineladies.com/wp-content/uploads/2017/08/WineLadiesLogoTransparent.png
Susanne Seelig-Mense
2015-06-07 11:43:35
2018-05-07 13:59:13
Two Sisters Vineyards, Niagara-on-the-lake's newest kid on the block.