Celebrating Women From Around The Globe With International Women's Day!
Tune in Wednesday March 1st, 2017

We have a fantastic show for you today all in Celebration of International Women's Day that is coming up on March 8th. International Women's Day was officially launched in 1911. Today over 100 years later IWD is celebrated around the world with 1000's of events taking place. 
So coming up today, The Dinner Party, is one such event, an annual fundraiser. Started in 2003 is co-presented  by Women of Halton Action Movement and Zonta Club of Oakville. This is a fabulous evening coming up on March 8th, honouring International  Women's Day. Our first guest to fill us in on the event and a little more about the mission of Zonta. Zonta is a global organization in 67 countries. Catherine Bobesich, the Fundraising Chair and Communications chair of Zonta Club of Oakville. 
Listen to Catherine Bobesich at 4:13 minutes into the radio show.
For tickets to The Dinner Party. 
Off to Italy next with Marilisa Allegrini, owner of Italy's 2016 Winery of the Year, a global ambassador for the iconic wine region of Veneto. A voice for the women today in this business traditionally dominated by men, the "voice of Amarone". Marilisa will join us and share her story of this historic winery going back six generations. We will explore her philosophy, her challenges and her greatest accomplishments.
Listen to Marilisa Allegrini at 13:47 minutes into the radio show.
Wines available in our market include the Allegrini Palazzo Della Torre 2013 – $24.95 per bottle and the Allegrini Soave 2015 -$16.95 per bottle
Listen to Amanda Usher at 31:54 minutes into the radio show.

And finally our final guest is accomplished jazz musician, Emily Steinwall.The Emily Steinwall Quartet features some of the rising young stars in Canada's jazz scene. With a voice that is distinctive and emotional, sophisticated playing and a beat that swings, this group captures the essence of jazz. On March 15th, they will feature special guest Brian Dickinson, a Juno award-winning piano player. Brian  has been a mainstay on the Canadian jazz scene for over thirty-five years. The group features Emily Steinwall on voice and saxophone, Hayden Farrar on upright bass, David Steinmetz on drums and Brian Dickinson on piano.
Listen to Emily Steinwall at 41:54 minutes into the radio show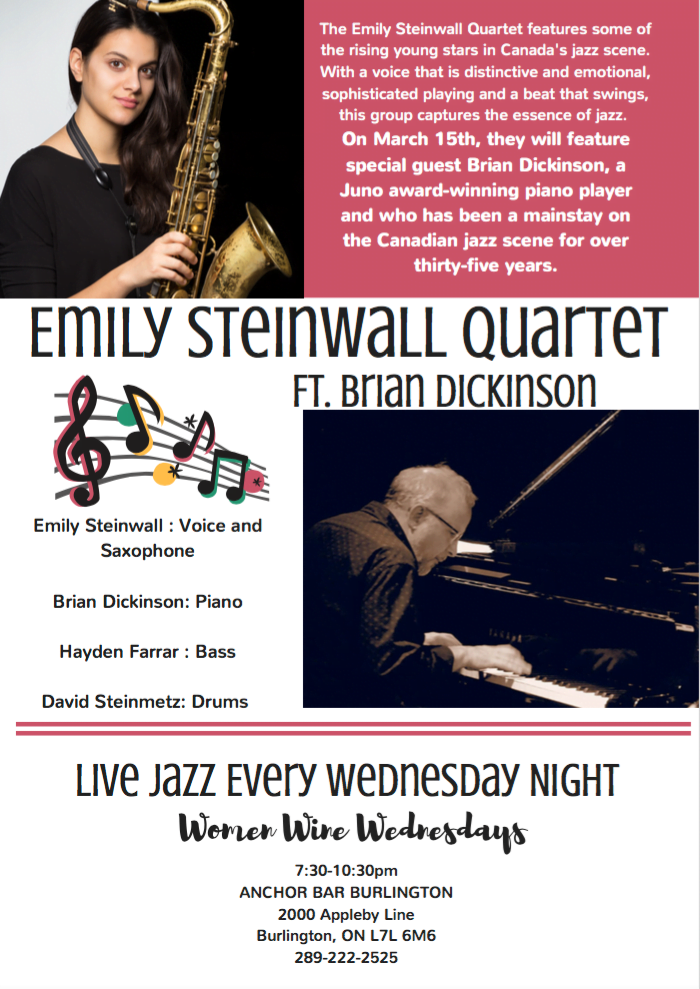 https://www.thewineladies.com/wp-content/uploads/2017/02/images_InternationlWomansdayrevised2017.png
461
823
Susanne Seelig-Mense
https://www.thewineladies.com/wp-content/uploads/2017/08/WineLadiesLogoTransparent.png
Susanne Seelig-Mense
2017-02-25 15:27:08
2018-02-28 16:50:10
On this week's radio show… Celebrating women from around the globe with International Women's Day