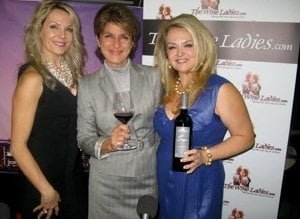 Meet Alexandre Marnier Lapostolle
Today we are going to be talking about one wine growing region, although considered "new world" this country has been producing wine since the 16th century when the Spanish conquistadors brought over the vitis vinifera vines.  We are talking about Chile, this stunning country, plays an important role in the world of wine, as the 5th largest exporter and the 8th largest producer in the world.
Joining us in studio to fill us in on the latest news on Chile, and tell us all about her winery, we welcome the dynamic, very astute business woman and very beautiful Alexandra Lapostolle. Alexandra is the founder of the award winning winery Casa Lapostolle, producing some of the finest wines coming out of Chile today. Alexandra says that her wines are ,"French in essence and Chilean by birth", find out what she means by that. Her Casa Carmenere 2008 recently received 91 points in the Wine Enthusiast and also been selected #3 in the Top 100 Best Buys.
Also her roots go very deep with a long history in liqueur and wine, Alexandra is the great granddaughter of Alexandre Marnier Lapostolle, the founder of the world renowned liqueur Grand Marnier, and her family has been involved in winemaking for generations with wines from France in the Loire Valley, the Chateau de Sancerre. Join us this Wednesday as we speak with this fascinating woman, Alexandra Lapostolle.
Casa Carmenere 2008, TOP 100 BEST BUYS 2010 in Wine Enthusiast
https://www.thewineladies.com/wp-content/uploads/2010/11/alexandrea_lapostolle1.jpg
219
300
Susanne Seelig-Mense
https://www.thewineladies.com/wp-content/uploads/2017/08/WineLadiesLogoTransparent.png
Susanne Seelig-Mense
2011-12-26 22:17:36
2023-03-08 10:27:22
Joining us in studio today, Grand Marnier, French wine royalty Alexandra Lapostolle.