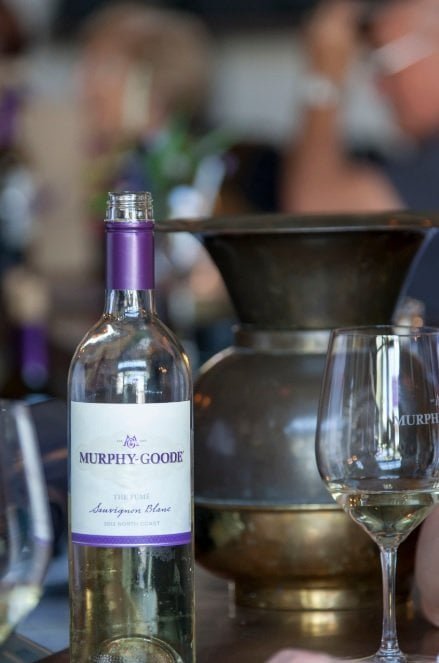 Dear Wine Ladies,
As a fan of Sauvignon Blanc my wife recently enjoyed a wine that was labeled Murphy-Goode Sauvignon Blanc, The Fumé from California. She absolutely loved it! Does "The Fumé" refer to another grape that is used in the making of this wine?
Chuck,
San Diego, California
Dear Chuck,
No it is not actually the name of a grape varietal. Although Blanc Fumé is a synonym used in the Upper Loire Valley of France for Sauvignon Blanc.
Murphy-Goode's Sauvignon Blanc, is a blended wine of two varietals, primarily Sauvignon Blanc and a hint of Semillon. Semilillon is a grape known for its blending with Sauvignon Blanc in Bordeaux.
David Ready Jr. the Winemaker for Murphy-Goode tells us, "the Semillon gives the wine those delicate floral notes and the touch of oak gives the wine that smokey, intriguing "fume" personality". A delightful wine indeed. We had the pleasure to enjoy with  Dave, at the  Murphy-Goode winery on a recent visit to Healdsburg in Sonoma County.
Please see link to this passionate winemaker's description of this wine.
Fumé Blanc is a term that got its start in the early 1970's when a California producer decided to rename his Sauvignon Blanc, Fumé Blanc and change it up with a bit of oak aging and a new dark green Bordeaux bottle. All agree the name was a bit of great marketing, riding the coat tails of the very popular French wine export Pouilly-Fumé.
The Wine Ladies, Georgia and Susanne
With winemaker David Ready Jr. at Murphy-Goode tasting room .
https://www.thewineladies.com/wp-content/uploads/2014/05/images_murphygoodesauvignonblanc.jpg
663
439
Susanne Seelig-Mense
https://www.thewineladies.com/wp-content/uploads/2017/08/WineLadiesLogoTransparent.png
Susanne Seelig-Mense
2014-05-01 13:59:56
2018-06-22 20:46:58
Does Fumé refer to another grape varietal? Ask The Wine Ladies.