The Wine Ladies on CHCH TV Morning LIVE with Annette Hamm.
Happy Easter Everyone! Watch the episode here!
Original airdate March 23, 2013
 As we know Easter is a time when family and friends get together usually surrounded with some wonderful dishes, and in many cases delicious wines of course.We thought we'd share with everyone a couple of wonderful dishes, our second office…from our office away from the office home Wholefoods Market in Oakville…. always freshest, organic foods, delicious recipes… thank you to France, Chef Ron and the whole crew! Our Good Friday or Sunday Easter brunch to include a Citrus Glazed Salmon with Fresh Herbs, Lamb Shepards Pie topped with mashed potatoes, a selection of cheese and a choice of Vanilla or Chocolate Bunny cakes! What a cornucopia of delicious treats.
With these plates we've selected a range of wines, from $12.00 to $20.00, nothing here is over the $20.00 mark, all super value wines, versatile and with an international flair!
Well nothing says celebration like a glass or two of bubbly, from Champagne, Prosecco or sparkling wine. Its also a wine that is perfect for a table that has a large variety of dishes as it is one that is very versatile and will compliment a bountiful Easter table with many foods and flavours. We found one  doesn't have to break the bank too.With a nod to our own back yard, we've got a sparkling here called Lily CEV Signature Series, by Colio Estate Wines in keeping with the theme of Easter…
Lily CEV Signature Series -Limited Edition wines,VQA sparkling  wine by Colio Estates Wines
Price: $17.95. Can be purchased at the Colio Wine Boutiques ( 14 locations across Ontario, one in Hamilton, two in Burlington) as well as the LCBO store locations.
Tasting/info:100% Riesling, also a very versatile grape variety with notes of fresh apple, lemon and a creamy finis  start the party off right
Winery/Region: Colio estate Wines  first opened their doors in 1980, one of the first to get their winery licence after prohibition. Located in lesser known region of Lake Erie North Shore, in Ontario. The region has the same latitude as Tuscany in Italy.
On Good Friday many folks choose to eat fish for today and we have here a magnificent Citrus Glazed Salmon, marinated in fresh orange and orange zest sauce, then baked and with herbs including parsley and chives.
Our wine pairing for this magnificent dish include a selection of two (2) white wines, the Santa Rita Reserva Sauvignon Blanc 2011 from Chile, Fielding Estate Winery Riesling 2011  plus for the red wine lover at your Easter table form California, the Chateau St. Jean Pinot Noir 2011.
Here we've brought in a super value Sauvignon blanc, we've just returned from Chile, and although the country may be long and skinny, it is big and fat on flavour and great value! This Sauvignon Blanc pairs great with this preparation, with notes of juicy grapefruit, fragrant citrus, good acidity with a touch of herbal notes, a natural for the salmon.
Santa Rita Reserva Sauvignon Blanc
Price: $14.95. Available at the LCBO
Tasting/info: Sauv Blanc pair great with this preparation, with notes of juicy grapefruit, fragrant citrus, good acidity with a touch of herbal notes,a natural for the salmon.
Winery/Region:Founded in 1880, stunning property in very important Maipo Valley.The grapes from Casablanca region of Chile, one of the finest producing regions in the world for white wines.
Curtis Fielding crowned Grape King
Fielding Estate Riesling 2016
Price: $19.95. Can be purchased at the winery or the LCBO
Tasting/info:Will also pair lovely with the salmon, shares the wonderful citrus notes, a little peach, delicious, also good acidity.We do Riesling really well here, Fiedling is located in Beamsville, Niagara.
Not always white wine with fish…. for the red wine lover, we have a California Pinot Noir from Chateau st. Jean                        
Chateau St. Jean Pinot Noir
Price: $19.95, 
Tasting/Info:New California appelation Pinot from this Sonoma based winery.The wine is supple, smooth, slightly soft Pinot with cran-raspberry fruit and dried herbs
Moving onto the next dish, one of the more popular dishes for Easter often involves lamb, whether a leg roasted, rack or like we have here Whole Foods favourite, fresh Lamb Sheperds Pie, sauteed with onions and fresh herbs,thyme parsley, cheese and topped off with a mound of mashed potatoes. Our selection includes a Malbec from Argentina as well as a Carmenere from Chile, having just come back from those regions we are Mad about Malbec in Mendoza and Crazy for Carmenere in Chile.
Our recent trip to Argentina included a trip to Callia in San Juan province. Here vineyard manager Gustavo Matocq explains the terroir that delivers such a beautiful Malbec.
Callia Alta Malbec 2012
Price:$10.90. Available at the LCBO
Tasting/info: Medium bodied, smooth, clear deep ruby colour, blackberry, plum,hints of oak and spice.
Winery/Info: Callia, is located in province of San Juan,Argentina, it is one of the wineries of Salentein Family of Wines with properties in Mendoza. San Juan 2nd largest wine region in Argentina after Mendoza.
 Another awesome wine pairing with the Lamb Shepherds Pie is the "hottest" grape to come from that long and skinny country Chile, the Carmenere. Our pick the MontGras Reserva Carmenere 2011. Our  recent trip to Chile included a visit to MontGras.
MontGras Reserva Carmenere
Price: $11.95 Available at the LCBO.
Tasting/info:The Mont Gras Properties, have vineyards in 3 major Chilian wine regions, this one from Cochagua, known for producing high quality Carmenere and Syrah.The vineyards are protected by         coastal mountain range and Andes, ideal meditteranean climate, rich in color, aroma, taste with soft round tannin. The wine is spicy, medium body, fruity, ripe fruit sweetness,with hint of                               vanilla, and toasty flavours.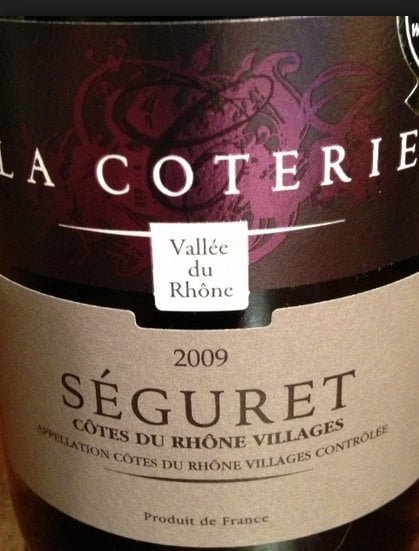 And if you are feeling in the mood for something French, back to those mediterrean climate varietals and wines, we have here from the Cotes du Rhones  just released beginning of this month
La Coterie 2009 Seguret Cotes du Rhone Villages
Price:$16.95. Available at the LCBO. A Vintage released March 2013.
Tasting/info:From the village of Seguret, grapes grenache and syrah. Medium weight, bodied, with raspberry and blackberry fruit with spicy notes, round on the palate, good length, good fruit,with touch of herbal notes. Great with lamb once again|
 Onto "les fromage…." brought in 3 today, courtesy of cheese spcialist Sandra from Whole Foods Oakville, all Canadian and all very different,Comfort Cream, Blue Haze and a hard grainier cheese the Toscano.
Comfort Cream made in Niagara by the Upper Canada Cheese Company. Camenbert-style soft white bloomy rind cheese with silky creamy golden interior,intense buttery palate, and long tangy finish. Delish with the Wolf Blass Chardonnay
 Wolf Blass Chardonnay, Australia
Price: $15.95. Available at the LCBO.
Tasting/info: Everyone knows Wolf Blass, one of the most successful brands, great value, reliable and excellent with this cheese.Full bodied, rich, tropical fruit, rich with buttery oak aromas,hint of spice, echoes creaminess of the cheese.
A little blue goes great with a little sweet! Icewines are beautiful with this cheese and the Inniskillin Vidal Icewine is an excellent choice.
This is a smoked blue cheese, made from cow's milk, that is produced by the the monks at the Abbaye de Saint-Benoît-du-Lac in Quebec. Blue Haze is aged 10 weeks at the Abbaye then it is shipped to Provincial Fine Foods in Toronto. There it is packaged in Cryovac to set the curds and it is held for 4 weeks to firm. After that, it is transported to Hansen Farms in Cayuga, Ontario for smoking. The journey is worth it. The result is a smokey rind that transitions into a creamy salty and sweet center enhanced by the special tang and flavor of the blue veins. It all comes together so nicely.
Inniskillin Vidal Icewine 2011
Price $49.95 Available at the LCBO and at Inniskillin in Niagara-on-the-Lake.
Tasting Notes/info: The 1989 vintage of this Icewine won the Grand Prix d'Honneur at Vinexpo and put Canada on the global wine map. Delicious creamy peach, candied citrus peel and honey flavours. Delectable with raspberry mousse, pear tart or an assertive cheese such as Gruyère. A little blue goes great with a little sweet! Icewines are beautiful with this cheese.
 Monforte Toscano, produced by Monforte Dairy located in Stratford pasteurized, sheep firm, natural rind, pressed, cooked.
Speri Pigaro Ripasso Valpolicella Classico Superiore 2015
Price: $12.95. Available at the LCBO. Vintage release March 16th, 2013.
Tasting/info: Medium bodied, fruity, ripe fruit, cherry, bit of spice. Smooth tannins,savory, rich, complex ripasso style – "repassed"literally, adding unpressed skins of Amarone, giving further body, intesity, flavour. Awesome with this cheese reminds us  a bit of peccorino  from Italy. region: Valpoliceela in Veneto, up to 70% corvina grape Classico (original Val zone, superiore min alc 12%
Onto the Wine Ladies withthe biggest sweet tooth, bigger than those Easter Bunnnies! I love cake! And here we have two gorgeous Easter cakes, almost too pretty to cut into…all natural ingredients, handmade Whole foods bakery…
  Inniskillin Cabernet Franc Icewine 2008
Price: $99.95  Available at Inniskillin in Niagara-on-the-Lake.
Tasting/info: Most people think of icewines being made out of typical white grapes, Vidal and Riesling but here we'd love to share with you an incredible icewine made with Cabernet Franc grapes.Soft crimson in colour, our Cabernet Franc Icewine displays alluring aromas of raspberry and plum with hints of figs. Full bodied, the intense flavours of berries and rhubarb marry with a touch of pepper and spice on the extended silky finish.
Our beautiful wardrobe courtesy of reknowned Canadian Designer Ross Mayer
https://www.thewineladies.com/wp-content/uploads/2018/03/CHCH-TV-Easter-Wine-and-Food-Pairing-with-Annette-Hann-March-23-2013-.png
497
673
Susanne Seelig-Mense
https://www.thewineladies.com/wp-content/uploads/2017/08/WineLadiesLogoTransparent.png
Susanne Seelig-Mense
2018-03-17 09:14:10
2018-03-18 09:57:56
Our Easter Wine and Food Pairings The Wine Ladies CHCH TV Morning Live