We are always on the look out for something new and exciting! We recently discovered an absolutely decadent, delicious spirit. As lovers of anything having to do with the coco bean, this vodka, the 360 Double Chocolate Vodka produced by McCormick Distilling is the best! "The planets first eco-friendly vodka" is not only delish but there's a lot going on here to feel good about and are excited to share with you.
McCormick Distilling, producers of 360 Vodka
And once again this year, The Wine Ladies will be hosting several chocolate and beverage tastings at the 5th Annual Luxury Chocolate Show over at Roy Thomson Hall. In preparing for the show we were recently introduced to a couple of really delicious unusual "chocolate infused" beverages. We would love to share with you including a product of a unique chocolate vodka, 360 Double Chocolate Vodka from McCormick Distilling . As well as a delectable award winning chocolate beer, Young's Double Chocolate Stout, all paired with one of our faves, BRIX chocolate.
Join us for 3 special Wine, Spirit, Beer and Chocolate seminars Sunday, Nov 8th, 2015 at 1:00pm, 2:30pm & 4:00pm. Get your ticket on site at the show.
Next, we welcome ow to the show Patrick Fee.Patrick is with McCormick Distilling,he is the Creative and Design Manager.Here to tell us all about 360 Double Chocolate Vodka and 360 Vodka the brand.
Listen to Patrick Fee at 23:50 minutes in the show.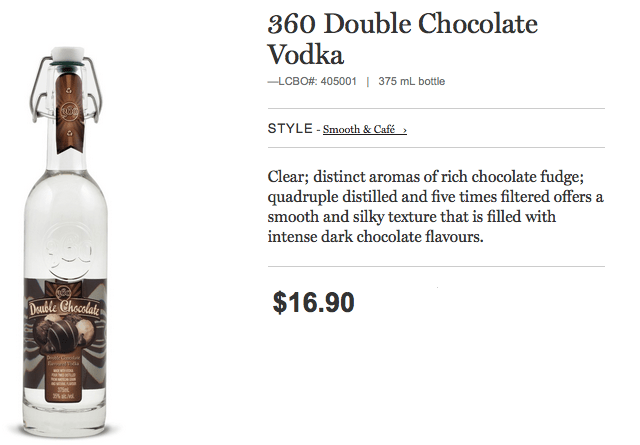 On this week's audio podcast…


It's Tequila time with Jose Cuervo!
Plus new delicious chocolate infused spirits and beer in time for the 5th Annual Luxury Chocolate Show.
Today we shift gears away from the grape vine and delve into the illustrious blue agave plant. To the number one selling tequila in the world, Jose Cuervo! Jonny Gray the Brand Ambassador for
Jose Cuervo
Tequila will fill us in on Jose Cuervo. As well as some of the myths and truisms surrounding Mexico's signature spirit
The
5th Annual Luxury Chocolate Show
is coming up in Toronto November 8
th. W
ith everything you can possibly imagine under one roof all having to do with chocolate. What is striking is how big this event has become. A true testament to the growing love and fascination with the beloved coco bean. And NOT only in Toronto. There are many events and festivals that go on now around the world all celebrating the ubiquity of chocolate, and the many ways it is being incorporated into our daily diets.
https://www.thewineladies.com/wp-content/uploads/2015/11/images_360vodkalogo.png
253
546
Susanne Seelig-Mense
https://www.thewineladies.com/wp-content/uploads/2017/08/WineLadiesLogoTransparent.png
Susanne Seelig-Mense
2015-11-05 12:59:48
2018-03-23 09:33:32
360 Double Chocolate Vodka the planets,first eco-friendly vodka.